Houston Offset Printing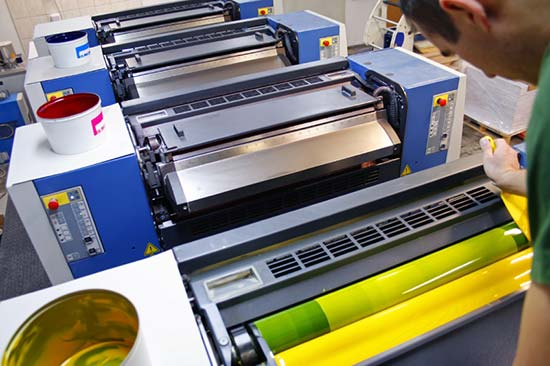 Offset printing is the best choice for your high quality Houston commercial printing needs. It is also the ideal, cost effective solution for high volume printing jobs. A metal plate is made that contains the image that will be printed. If the job is being printed using multiple colors, each color will have its own metal plate. Each plate is then mounted on their own cylinder of the printing press for the specific colors to be used.
Once the printing press is setup and ink added to each cylinder unit the process can begin. The paper to be used for the job is fed through the press and as the cylinders revolve the inked image is transferred to a rubber cylinder and then to the paper. During the printing process, a thin film of water is applied to the metal plates to keep the ink from being applied to the areas of the plate that do not contain an image. Once the ink dries, the paper is trimmed to the final size of the printed piece and folded. If the final product contains multiple pages, there are many different bindery options available including: plastic coil, GBC, wire bound and perfect binding.
Offset Printing Advantages:
Exceptional quality of all images
Many different types of paper can be used
The cost per piece is very good for high volume projects
Many different ink colors
Unlimited paper choices
If you are looking for a high quality, large print order, then offset printing is the best choice for you. DiPuma Printing and Promotional Products offers traditional offset printing which produces a detailed and brilliant quality print for large printing jobs. A typical offset print run starts at 500 making it ideal for large print jobs.
We house state of the art, modern technology offset presses as well as the ability to perform thermography and embossing on just about any type of paper. As your one stop shop for commercial printing and Houston promotional products needs, we GUARANTEE your happiness. Call today for a free quote!
Other Commercial Printing Services: