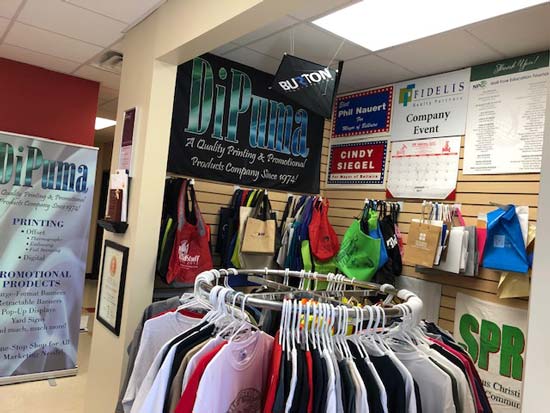 Sign Design & Production
Houston signage printing covers a wide array of sign types. Yard signs, election signs, construction signs, realtor signs and any type of business signs a customer can dream up are some of the many sign types we can print. DiPuma Printing & Promotional Products has also added car wraps and outdoor adhesive signage services.
Our extensive variety of sign types encompass everything you need to market your business or special event. When you want to increase traffic to a location, event or person, we have the printing capabilities you need. Have a specific type of sign you need then we can make a custom one for you.
From wall calendars and banners for interior walls, trade shows and charity events to permanent indoor wall directional signs, DiPuma is here to help you accomplish your signage needs.
Houston Car Wraps are a great way to marketing to potential customers 100% of the time your company (or personal) vehicle is in use. Semi-permanent adhesives with logos and marketing URLS on company vehicles is a great way to promote your business while simply sitting in traffic or making deliveries and service calls during the day.
Let DiPuma Printing and Promotional Products – your Houston Sign Design and Production go-to, help you promote your business in ways you haven't considered. From intricate wall signs to very simple car decals or car wraps, our processes are fast and economical. Call today!