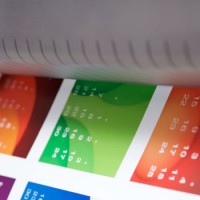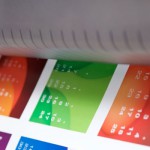 If you need a large number of printed materials, be it menus, brochures or business cards, you have a choice between two types of printing methods: digital and offset printing. Most Houston commercial printing services offer both, and it is important to understand the pros and cons of each system of printing before you select one for your project. Digital and offset printing can do the job, but the quality, cost and speed of the final product is determined by which printing method you choose.
How Offset and Digital Printing Work
Offset printing, also known as press printing, works by applying ink to paper with a series of rollers. This method is fairly labor intensive since a plate of the image that is to be printed has to be created, and the press itself requires cleaning and maintenance. Typically, two people are needed to run an offset printing press.
Running digital printing presses involves far less labor, and digital presses work by applying ink to a page in a single pass from an ink head, much like inkjet printers do. Printed pages are produced based on digital images, eliminating the need for plates as well as making it easier to produce proofs. It is possible to get a color proof for an offset printing job from a Houston printing company, but these proofs may not be identical to the final product in terms of color.
Cost and Speed Comparisons
Cost is often a major factor in determining what method of printing to choose, and generally speaking, Houston digital printing is less expensive than offset printing. This is in part because offset printing requires more work, but sometimes this is because you have more options to choose from with offset printing. However, it is important to note that the larger the printing job, the smaller the per unit cost becomes with offset printing, so large runs tend to diminish the cost differences between the two options.
As with costs, turnaround time is generally best with digital printing. Since there are no plates to create and printing can be done from a digital image, there is much less setup involved than with offset printing, so you can get your final product faster.
Quality and Customization
If you are wondering why people even bother with offset printing since digital is often cheaper and faster, the reason is that offset printing offers a much wider range of options and much higher quality results than digital printing. Digital printers only use four colors, so the range of colors as well as saturation and brightness is limited. On the other hand, offset printing can take advantage of the Pantone Matching System, ensuring that colors come out exactly as intended.
Additionally, a wide range of finishing techniques are available with offset printing that are not available with digital, including metallic print, embossing and foil stamping. Die cutting, folding and other finishing services are also often available only through offset printing.
You are also fairly limited in terms of paper selection and size with digital printing. While offset presses can print on just about anything, most digital presses are only able to print on smooth white paper and in a limited number of thicknesses. Digital printing also is normally constrained to a maximum size of 18 inches by 12 inches, but offset printing can usually handle sizes up to 25 inches by 38 inches.
The area where digital printing offers greater choices is in single unit customization. If you want to have Houston promotional products with customized information, such as a different name or address for each printed item, it can only be accomplished with variable data printing with a digital press.